Create lasting memories this holiday season with our signature Kringle Krate - Christmas Eve Activity Box. Each box includes a minimum of 15 unique items handpicked for your child to enjoy on Christmas Eve. Boxes can be selected based on single, double or triple children households. 
Children will begin with a letter from Santa that includes a list of activities to complete before bedtime. From the traditional Christmas Eve routine of putting cookies out for Santa to designing their own cocoa travel mug - families are sure to spend time focusing on each other rather than the materialism that is often associated with the holiday season. 
Designed for children 3-10 years old, but most activities can be modified for different age groups.
Customer Reviews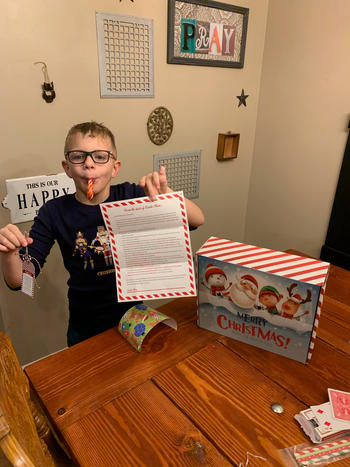 05/19/2020
I recommend this product
9 year old loved it!
My 9 year old loved it! He had a lot of fun with the cookies (not the cookie cutters), the glitter, bath bomb and tasting all of the treats. He is pretty impatient, so having him sit down to color his mug was not what he was focused on. He was just ready to use it and move on!
Keebra C.
United States
05/21/2020
I recommend this product
Parker the Elf New Gift
It was great. A wonderful new family tradition. As we attend church on Christmas Eve, Parker (our Elf on the Shelf) leaves a goodbye gift for our kids. This year he left the Kringle Krate and our kids loved it. Particularly, the items that focus on 'the magic of Christmas' were so fun. The kids could not wait to run outside and spread reindeer food!
Jason S.
United States
05/21/2020
I recommend this product
What fun!
Loved this box even though it wasn't opened until Christmas day. Although the items are geared for a fun Christmas eve, they were still super fun on Christmas and the days following.
Pennie R.
United States
05/20/2020
I recommend this product
We love a good tradition!
We LOVED the Kringle Krate! Already looking forward to the 2020 edition!
Debi P.
United States
05/19/2020
I recommend this product
Perfect Gift!
My friend absolutely LOVED her Double Kringle Krate! Her children are a few years apart, and the gifts packed inside were perfect for both ages (2.5 and 8.5)! I will definitely be ordering again!!
Rachel K.
United States