Create lasting memories this holiday season with our signature Kringle Krate - Christmas Eve Activity Box. Each box includes 6 unique items handpicked for your child to enjoy on Christmas Eve. Our double box features 2-sets of the items below:
Christmas Cookie Apron Coloring Kit - complete with Fabric Markers
Frozen Hot Chocolate by Frozen Bean

™

 
Rudolph's Bath Bomb
Reindeer Food
Santa Key
Betty Crocker

™

 

Sugar Cookie Mix
The best part of Kringle Krates are the guided activities directed by Santa himself!  Children will begin with a letter from Santa that guides them through Christmas Eve activities and prepares them for bedtime. Children will even be prompted to clean their rooms and go to bed early, so as not to delay his pending arrival. 

Kringle Krates are not your average Christmas Eve Boxes. Kringle Krates are activity-based, fill with products sourced from small businesses across the US, and designed with your children's experience in mind. All products are manufactured in the United States with many products sourced directly from the Midwest. 
Kringle Krate Christmas Eve Boxes are designed for children 3-10 years old, but most activities can be modified for different age groups. If your child needs a modified product due to allergies or disabilities, please email Info@TheKringleKrate.com and we will be happy to swap out an item or customize to accommodate your child's needs. 

Finally, every Kringle Krate is hand-packed by our owner in Franklin, Indiana. Born from a desire to make holidays more meaningful and fun, Kringle Krate Christmas Eve Boxes are sure to become your next family tradition!
Customer Reviews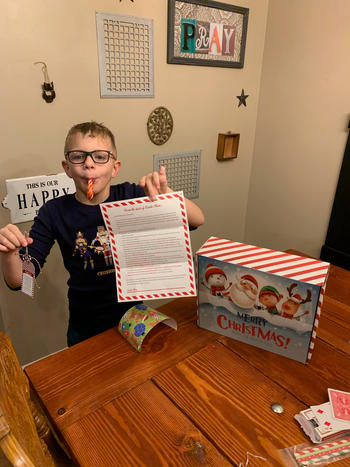 05/19/2020
I recommend this product
9 year old loved it!
My 9 year old loved it! He had a lot of fun with the cookies (not the cookie cutters), the glitter, bath bomb and tasting all of the treats. He is pretty impatient, so having him sit down to color his mug was not what he was focused on. He was just ready to use it and move on!
Keebra C.
United States
05/21/2020
I recommend this product
Parker the Elf New Gift
It was great. A wonderful new family tradition. As we attend church on Christmas Eve, Parker (our Elf on the Shelf) leaves a goodbye gift for our kids. This year he left the Kringle Krate and our kids loved it. Particularly, the items that focus on 'the magic of Christmas' were so fun. The kids could not wait to run outside and spread reindeer food!
Jason S.
United States
05/21/2020
I recommend this product
What fun!
Loved this box even though it wasn't opened until Christmas day. Although the items are geared for a fun Christmas eve, they were still super fun on Christmas and the days following.
Pennie R.
United States
05/20/2020
I recommend this product
We love a good tradition!
We LOVED the Kringle Krate! Already looking forward to the 2020 edition!
Debi P.
United States
05/19/2020
I recommend this product
Perfect Gift!
My friend absolutely LOVED her Double Kringle Krate! Her children are a few years apart, and the gifts packed inside were perfect for both ages (2.5 and 8.5)! I will definitely be ordering again!!
Rachel K.
United States